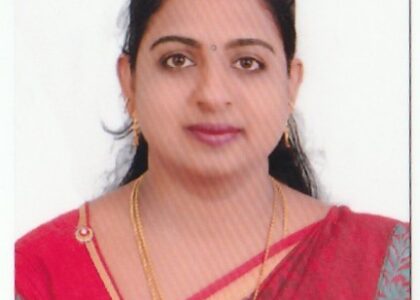 Mrs. M.SINDHU.,B.SC.,B.ED.,D.EL.ED
TO IMPROVE THE LISTENING SKILLS
To make children listen to teacher's reading
To ask simple questions to test their comprehending power
To improve their pronunciation through Language Lab.
The practice of Sentence formation.
TO IMPROVE READING & WRITING SKILL
Making children to read passages from books.
Making them read poems aloud & correcting whenever needed.
Splitting words into syllables.
Giving importance to spelling.
Conducting spelling tests to elicit their power of understanding.
To improve writing, to make them write words & sentences after completion of lesson.
By writing correct spelling.
TO IMPROVE HANDWRITING
By paying individual attention to children & help the needy to improve.
Each notebook has to be checked corrected with a good writing of the teacher.
By giving training in Handwriting every day between 3 P.M & 3.30 P.M.
To appreciate & applaud wherever & whenever there is an improvement.
By showing some already printed, prepared passages with good handwriting.
TO IMPROVE VOCABULARY SKILL
A lot of practice to drill words & their meaning.
Opposites of words to be given then & there.
Their pronunciation to be given much importance.
The spelling of each word to be clearly spelt by children.
Taking them to places of interest & making them write about it.
By showing CDs.
PHILOSOPHY
A refined personality is a result of proper grooming. At SRM, we look to inculcate the best moral values and social etiquette, resulting in children with impeccable character.
OBJECTIVES
To make learning fun by introducing elements beyond the four walls of the classroom.
To develop knowledge and skills of a student in stages
To address both the physical and cognitive needs of the child
To give equal attention to the intelligence and emotional quotients of the child
To induce the right kind of aptitude for global success
To create a focused perception through unique teaching methodologies
TO IMPROVE CREATIVE THINKING.
By listening to stories and telling stories.
Picture drawing – Based on that sentences making.
To do creative artwork and arranging to publish in Newspapers.
By taking them to places of Interest and writing about them.
STAFF DEVELOPMENT PROGRAMME
Advising them to write a Uniform handwriting practice.
To advise them to listen to BBC, NDTV. News to improve their pronunciation skill.
To attend classes conducted by Eswari Engineering college staff, to improve the language skills.
TO IMPROVE STANDARD OF CHILDREN
Often conducting Parents teachers meet to highlight the steps taken
Answering their queries in a reasonable way.
By sending circulars to parents regularly.
By catering to the needs of slow learners.
By taking extra effort to improve the standard of teachers.
By monitoring regularly.
THE PRIMARY CURRICULUM AIMS TO
Skills and activities based approach forms the backbone of our teaching methodology. Emphasis is put on public speaking, interpersonal and communication skills, and team work.
Our dedicated faculty members follow a child-centric approach, providing kids ample opportunities to learn and also apply what they have learnt.
Heavy emphasis is given to holistic growth, thus personality building forms an integral part of their education design. With this, a strong foundation is laid for students to go on and become global achievers in whichever field they choose.
The aims of the curriculum are to ensure that all children are provided with learning opportunities that recognize and celebrate their uniqueness, develop their full potential. The focus is on the child as learner, and the use of a variety of teaching methodologies is an essential feature of the curriculum.
The curriculum emphasizes the need for greater attention to be paid to students with special educational needs and emphasizes the importance of achieving functional literacy and numeracy. It also draws attention to the needs of gifted children.
The Students of primary are given an opportunity to have a personalized learning. They are given ample exposure to Classical Music, Western Music, Dance, Yoga, Karate, chess, sports and other club activities in addition to Academics.
Through the implementation of a variety of life skills, innovative and progressive teaching methods, consistent discipline and the use of modern technology, we seek to prepare learners for the changing society of which they are a part and to meet the challenges of a rapidly changing future.
All competitive & talent based exams are conducted.
Classrooms are equipped with Smart board and advanced devices to give visual education and interactive learning.
LIBRARY
Balanced approach to life and acknowledge the complimentary roles played by the School and the community.
This encourages an attitude of openness among educators, parents and learners and at the same time is committed to the sharing of high moral values and standards.
The Children are ably guided for technology based learning in the Computer Science & Maths Lab.
Exclusive computer lab with well-structured curriculum for primary students.
Activity based learning in the formative years make them to understand the importance of community living.
Exclusive Junior Computer lab is the highlight of the School.
ASSESSMENT
The Primary level have a series of Formative Assessments (FA) aimed at measuring progress and achievements of students through practically assessing activities and subject-specific skills.
The Summative Assessment (SA) is a formal written test, which is conducted at the end of each term. The student is graded based on the sum total of FA and SA conducted over the three terms.